Download PiePie Launcher 1.4.6 Apk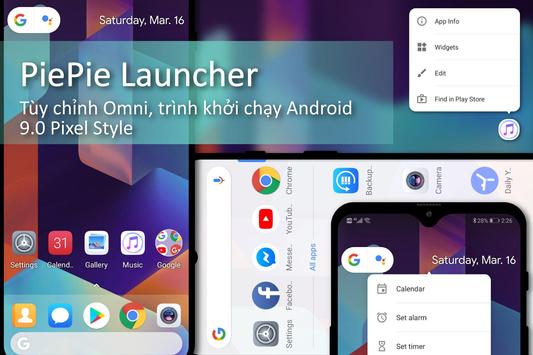 PiePie Launcher dapat digunakan secara gratis dan tanpa root, PiePie Launcher juga merupakan aplikasi / game untuk semua umur. Aplikasi / game ini mendapat rating dari 10. Anda dapat mengunjungi situs web PiePie Launcher untuk mengetahui lebih lanjut tentang perusahaan / pengembang yang mengembangkan aplikasi / game ini. Unduh PiePie Launcher apk versi terbaru ini menggunakan browser favorit Anda dan klik install untuk memasang nya. Unduh PiePie Launcher 1.4.6 apk untuk android dari situs nyamukapk.com lebih mudah dan cepat.
Deskripsi PiePie Launcher
PiePie Launcher is an android 9.0 Pixel style launcher, offers omnipotent customization and useful features to make your phone unique and efficient.
Android™ Pixel Style Launcher
A Pixel Launcher features: swipe up from dock to review all apps at full screen mode, tint the dock, use the new circular folder style, place the Google Pill and Date widgets and more. PiePie support Android 6.0 to 9.0 style, default is Android P (9.0). To change the launcher style: Access Setting -> Quick Setting -> Launcher Style.
Useful Tips:
: Long press on empty space of home screen to access setting, or click PiePie Setting icon on home screen.
Tip for noobs
: If you need a simple Pixel launcher only, don't wish to waste any brain cell on PiePie , then stop here and enjoy it.
Omnipotent Customization
1.
Home Screen
: customize home screen layout, icons size, label style. Show or disappear notification bar etc.
2.
Scroll Effect
: try 14 different home screen scroll effects and find your favourite one, you can also add fade out and elastic scrolling coefficient, see what difference they will bring to your phone.
3.
"At a Glance" widget
: customize widget font, clock and date format, search bar style etc.
4.
All App
: customize all app layout, icon size and label style. Top search bar style.
5.
Dock
: customize dock style, such as icons number, dock height, label, arrow, page indicator, rounded dock etc.
6.
Folder
: customize folder layout, folder open animation, background color and opacity, rounded corner, icon size, label style etc.
7.
Theme
: build-in 6 standard themes, or auto-theme depends on wallpaper.
8.
Icon Pack
: apply icon packs, change icon shape. (Note: better restart PiePie after apply a new icon pack. Access Setting -> About PiePie Launcher -> Restart)
9.
Shortcut& Popup
: customize shortcut&popup style, label font, extract shortcut color from app icon, corner radius etc.
10.
Behavior
: customize your mobile phone behavior, allow screen rotation, edit or lock home screen, etc.
11.
Reset to defaults
: don't like your customization, one quite tap to reset all settings to default. (Access Setting -> Backup & Restore -> Reset to defaults.)
Fast and Efficient
1.
Gestures
: support 7 different gestures (double tap, one finger swipe up etc.), you can access more than 12 actions or open any app by a particular gesture.
2.
Shortcut & Popup
: customized shortcuts & popups allow you to access quick actions and apps fast and efficient. Shortcut and popup items can be customized at setting.
3.Deeply optimized Pixel launcher, less power comsumption and more smooth experience.
Useful Tips:
1.: Tap on "At a Glance" widget to access "Calendar/Set Alarm/Set Timer" action. Enable it at Home Screen Setting.
2.Launch "Clock": long press on "At a Glance" widget.
3.Tap on "All App" top search bar, to access "Google Assistant", "Hidden apps", "Play store" etc. Buttons can be customized. (Access Setting -> All APP -> Search Bar Settings - Button in search bar -> Buttons)
4.Double tap on home screen to lock device.
5.Long press on App icon show shortcut menu, "edit", "share", "find in Play store" etc. (Action items can be custimzed at Shortcuts & Popup Setting)
6.Long press on home screen shows Popup, quick access to "System Settings", "Icon Pack", "Lock", "Edit" etc. (customized items)
Safe and reliable
1.Hide apps
2.
Kids mode
3.Backup and restore
Theme Market
1.Icon packs: pls note: they are independent applications link to Play Store, some are free, most of them are charged.
2.Wallpapers
Android™ is a registered trademark of Google, Inc. PiePie Launcher is inspired by Android 9.0 Launcher, but please be noted that it is not Google official product.
Note: this app uses the Device Administrator permission, because "Turn off screen" function need this permission.
Cara Install :
1. Download PiePie Launcher APK / XAPK dari NYAMUKAPK.
2. Install File Nya Sampai Selesai.
3. Jika ada peringatan saat menginstal apk nya, Masuk ke Setting / Security / Centang Unknown Source.
4. Jalankan Aplikasi / Game Nya.
5. Selesai.