Download Minesweeper GO - classic mines game 1.0.78 Apk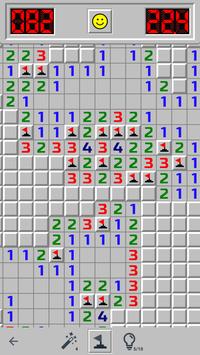 Minesweeper GO - classic mines game dapat digunakan secara gratis dan tanpa root, Minesweeper GO - classic mines game juga merupakan aplikasi / game untuk semua umur. Aplikasi / game ini mendapat rating 10.0 dari 10. Anda dapat mengunjungi situs web Minesweeper GO - classic mines game untuk mengetahui lebih lanjut tentang perusahaan / pengembang yang mengembangkan aplikasi / game ini. Unduh Minesweeper GO - classic mines game apk versi terbaru ini menggunakan browser favorit Anda dan klik install untuk memasang nya. Unduh Minesweeper GO - classic mines game 1.0.78 apk untuk android dari situs nyamukapk.com lebih mudah dan cepat.
Deskripsi Minesweeper GO - classic mines game
Minesweeper easily trains your brain and increase the speed of your thinking. At the same time it is fun and challenging logic puzzle.
The objective of the minesweeper game is to demine minefield without detonating any of the land mines. Use flags to mark mines and tap numbers to open safe squares.
🏆 Online Tournament, compete with your friends or any player around the globe.
📌 Minesweeper Campaign. A great way for beginners to learn how to play minesweeper. If you are an experienced player, the Veteran campaign will be a good test of your skills.
* all campaign levels are guess-free, that is, they have a 100% logical solution.
📌 Unique features: magic wand of luck, guess free boards* and smart hints.
* guess free mode is a paid option.
📌 Game controls are highly optimized for android touch screens. You will get the best classic minesweeper experience on android devices.
Why choose this Minesweeper app?
– High precision timer
– Multi-touch zoom and smooth scrolling
– 3 classic levels of difficulty
– Guess free mode, create boards completely solvable through logical deduction
– Magic wand of luck and smart hints
– Create custom minefields. Change board size and number of mines including 3BV control of the board.
– Offline score board including personal records history
– 🌏 Online World and Live player rankings
– Deeply customizable and superior controls (Tap to flag or tap to explore, etc.)
– Recursive chords
– Gameplay video playback
– Application themes and minefield skins
– Built-in game help contains best minesweeper patterns and practices
– Designed with NF (playing without flags) players in mind
– Minimalistic UI
– Facebook integration
– Cheats (undo of failed move, play again, etc.)
And a lot more!
Minesweeper GO is an implementation of classic old-school minesweeper game. You can choose from three classic minesweeper boards to play:
★ Beginner: 8x8 board with 10 mines
★ Intermediate: 16x16 board with 40 mines
★ Expert: 30x16 board with 99 mines
Are you advanced player and want to beat minesweeper records? Then you can leverage chord recursion options game gives to you.
Can you win all three classic minesweeper game levels? Then you are good enough to be listed in World Ranking and to join Minesweeper Community.
Minesweeper GO is free to play on android.
This game has a lot of advanced features for the sake of seasoned minesweeper players just for free.
Download minesweeper now and became smarter!
Happy minesweepіng!
Cara Install :
1. Download Minesweeper GO - classic mines game APK / XAPK dari NYAMUKAPK.
2. Install File Nya Sampai Selesai.
3. Jika ada peringatan saat menginstal apk nya, Masuk ke Setting / Security / Centang Unknown Source.
4. Jalankan Aplikasi / Game Nya.
5. Selesai.