Download Kritika 3.15.5 Apk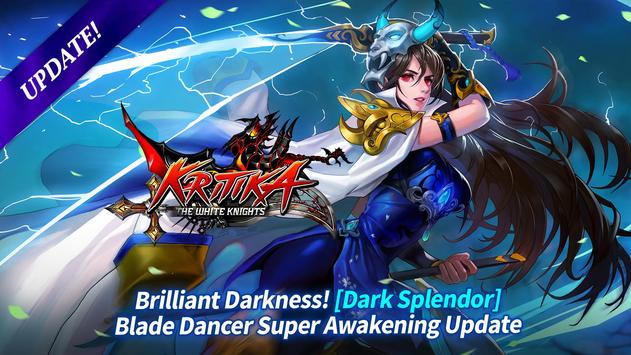 Kritika dapat digunakan secara gratis dan tanpa root, Kritika juga merupakan aplikasi / game untuk semua umur. Aplikasi / game ini mendapat rating 8.1 dari 10. Anda dapat mengunjungi situs web Kritika untuk mengetahui lebih lanjut tentang perusahaan / pengembang yang mengembangkan aplikasi / game ini. Unduh Kritika apk versi terbaru ini menggunakan browser favorit Anda dan klik install untuk memasang nya. Unduh Kritika 3.15.5 apk untuk android dari situs nyamukapk.com lebih mudah dan cepat.
Deskripsi Kritika
FEEL THE RUSH! KRITIKA: The White Knights
* Feel the adrenaline at your fingertips!
- Play the most exhilarating action RPG that will keep you electrified!
- Intense EX skills that jump off the screen! Call upon a friend's Striker to help you dominate!
* Meet the champions!
- Blade Dancer: Overwhelms enemies with swift and accurate slashes from her Phantom Sword!
- Lina: Illuminates both stages and battlefields with her flames and spear!
- Strike Archer: A deadly archer and her loyal falcon deals long-range & fatal damage!
- Steam Walker: Defeats enemies with splendid kicks!
- Halo Mage: Annihilates enemies with powerful artillery fire and magic!
- Monk: Uses his fists and powerful magic to smite evil!
- Mystic Wolf Guardian: Brilliant lightning skills! The power of Sirius! Enemies watch out, she'll destroy all those in her way!
- Noblia: Dominates the enemies with different weapons and her super strong power!
- Ice Warlock: Powerful frost magic attack sweeps the enemies off the ground!
- Burst Breaker: Sprightly and unpredictable! Single strike will blast the entire battlefield!
- Eclair: Her second to none versatility will lead the enemies to their ruin!
- Blood Demon: Her bloodthirsty spear yearns for lives!
- Demon Blade: His blade cuts a bloody path through the battleground!
- Crimson Assassin: Cool as ice! The battlefield is her playground!
- Dark Valkyrie: She seduces with her chains and judges with her scythe!
- Berserker: Behold his rage as he destroys everything in sight!
- Cat Acrobat: Quick and agile, fall in love with her spunky fighting moves!
- Shadow Mage: His eerie shadow will ensnare and annihilate enemies!
* Experience a game system like no other!
- It's more fun if you work together! Enjoy the new Guild system!
- Pets that keep your side and make you stronger!
- Grow stronger through 103 different stages in Stage Mode!
- Encounter the Monster Wave! Attack an endless wave of monsters!
- Climb and conquer the 50 floors of the Tower of Tribulation!
- Test your skills in Arena, Versus, and Melee! Become the ultimate champion!
- Work together to defeat powerful bosses in "World Boss"!
- Use the Auto-Battle feature to clear stages more conveniently!
* Minimum Device Requirement: Galaxy S3
** This game is available in 한국어, English, 日本語, 中文简体, 中文繁體, Deutsch, Français, Español, Português, Русский, Vietnam, ไทย
** There may be additional costs when trying to obtain certain items.
[General Forum]
http://m.gamevilusa.com/forums/forumdisplay.php?512-Kritika-The-White-Knights
[Facebook]
https://www.facebook.com/KritikaGAMEVIL/
*Access authority notice for gameplay
- PHONE (device): The authority is required to run in-game events, reward prizes, and check OS version and device model to handle customer inquiries. Kritika: The White Knights will not affect or access PHONE features such as PHONE calls.
* GAMEVIL Official Website : https://www.withhive.com
* GAMEVIL Customer Support : https://m.withhive.com/customer/inquire
Terms of Service: http://terms.withhive.com/terms/bridge/gamevil.html
Privacy Policy: http://terms.withhive.com/terms/bridge/gamevil.html
Cara Install :
1. Download Kritika APK / XAPK dari NYAMUKAPK.
2. Install File Nya Sampai Selesai.
3. Jika ada peringatan saat menginstal apk nya, Masuk ke Setting / Security / Centang Unknown Source.
4. Jalankan Aplikasi / Game Nya.
5. Selesai.