Download Clash of Crime Mad San Andreas 1.3.3 Apk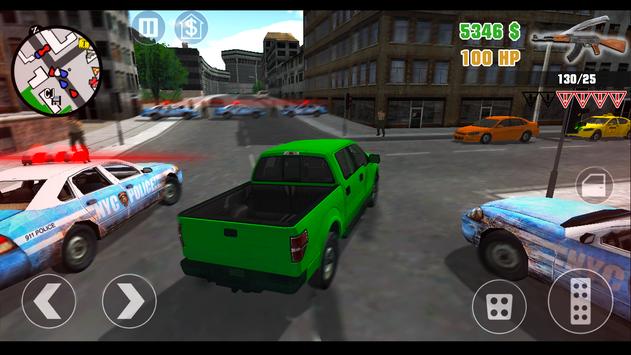 Clash of Crime Mad San Andreas dapat digunakan secara gratis dan tanpa root, Clash of Crime Mad San Andreas juga merupakan aplikasi / game untuk semua umur. Aplikasi / game ini mendapat rating 8.9 dari 10. Anda dapat mengunjungi situs web Clash of Crime Mad San Andreas untuk mengetahui lebih lanjut tentang perusahaan / pengembang yang mengembangkan aplikasi / game ini. Unduh Clash of Crime Mad San Andreas apk versi terbaru ini menggunakan browser favorit Anda dan klik install untuk memasang nya. Unduh Clash of Crime Mad San Andreas 1.3.3 apk untuk android dari situs nyamukapk.com lebih mudah dan cepat.
Deskripsi Clash of Crime Mad San Andreas
Double-crossed the mafia, have fun, go for a drive on steep sport muscle cars, earn money at various works, promote your authority in the eyes of large mafias, that all depends on you! A huge number of weapons, awesome cars, girls, shootings, car pursuits, actions in the first part of the famous game Clash of Crime!
Reload your weapon, hit the gas and hold on tight - it's the most colorful action in your life.
Clash of Crime open a new world, bringing to life the dark and seedy underworld of San Andreas. With a massive and diverse open world, a wild cast of characters from every walk of life and the freedom to explore at will, Clash of Crime Mad SA puts the dark, intriguing and ruthless world of crime at your fingertips.
Features:
• Visually stunning updated graphics, character and vehicle models
• HD quality resolution
• Gameplay optimized for touch screen devices
• Additional customization traffic frequency
• Countless hours of gameplay
• Thief simulator
SHOCKING Clash of Crime
√ Any blockbuster envy for the plot of this game!
√ A lot of hurricanes JOB
√ A variety of storylines
√ A huge number of jobs to earn first money: pizza boy, taxi driver, ambulance driver, and more
√ Clash of Crime, a huge urban sprawl ranging from the beach to the swamps and the glitz to the ghetto, was one of the most varied,
complete and alive digital cities ever created.
A RIDE ON THE WILD SIDE
√ A huge car park, where you will find the pick-ups, muscle cars and even helicopters
√ Combining open-world gameplay with a character driven narrative, you arrive in a town brimming with delights and degradation and given the opportunity to take it over as you choose.
Game storyline:
A young boy named Nick, has been living for 10 years in the Ghetto, and he constantly needed money for his existence. He works pizza guy, as a taxi driver, changes one job to another, but the debts are increasing.
His old pal Mad Joe proposes him to solve problems by working for the mafia. Nick agreed by the desperation. But it is not that simple, mafia rejected him because of his terrible past and asks him to get out of the city, because earlier Nick murdered the half of this mafia, when they were opponents.
Nick performs orders from mafia, that were given for Mad Joe. He do it to enhance his reputation in mafia, and to revenge to the main boss of cartel in Clash of Crime.
You have just become the most wanted man in the city. In a place where crime is everywhere, you will have to hold your gun tightly and take part in the wildest mafia wars ever!
City of sins and vices. The city of bright lights and dark alleys. The city where you can become rich suddenly, and just as quickly lose your life. Welcome to the Clash of Crime Mad.
Download free game, supported by operating system: Android 4.0+
To get more information subscribe us:
https://www.facebook.com/CactusGamesCompany/
Clash of Crime will be updated regularly with your suggestions. Don't forget to leave a review with your feedback.
Cara Install :
1. Download Clash of Crime Mad San Andreas APK / XAPK dari NYAMUKAPK.
2. Install File Nya Sampai Selesai.
3. Jika ada peringatan saat menginstal apk nya, Masuk ke Setting / Security / Centang Unknown Source.
4. Jalankan Aplikasi / Game Nya.
5. Selesai.